Accommodation in cottages
In the area of the camp U Kateřiny, in the quiet surroundings of the Moravian-Silesian Beskydy Mountains, we provide accommodation in rooms in the main building of the camp Štramberk. Accommodation is available except for the months of July and August, when children's summer camps are held in the area. All necessary facilities are available in the camp.
All necessary facilities are available in the camp. All the necessary facilities are available on the campsite. Free parking in the unguarded car park, WIFI internet access is included in the price or you can rent sports equipment here.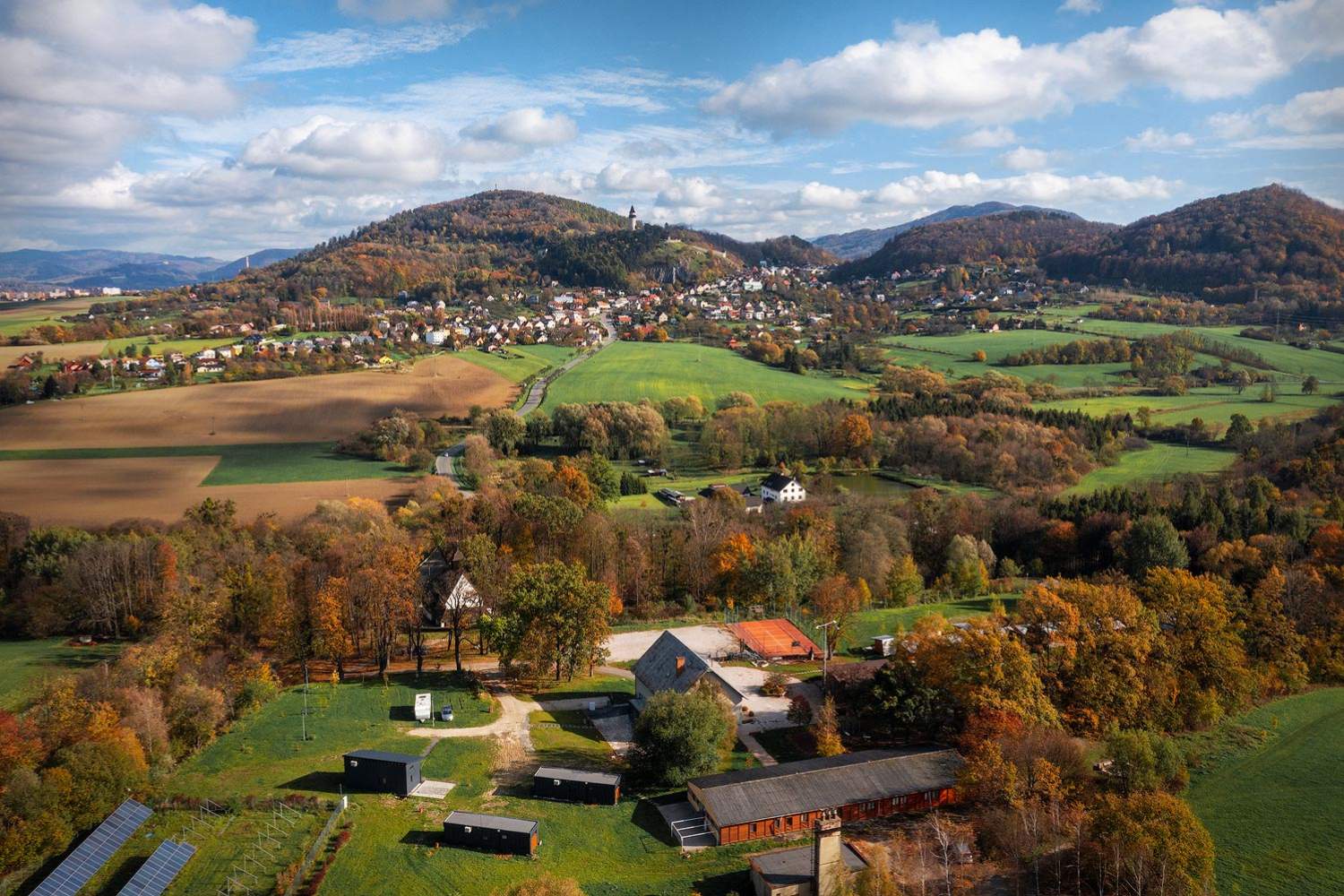 Quiet surroundings with views of the countryside
The campsite is situated in a quiet location near the historic town of Štramberk. Here you live in the countryside, but at the same time you have nowhere far away. You can easily reach other entertainment, sightseeing trips, museums or hiking in the Beskydy Mountains.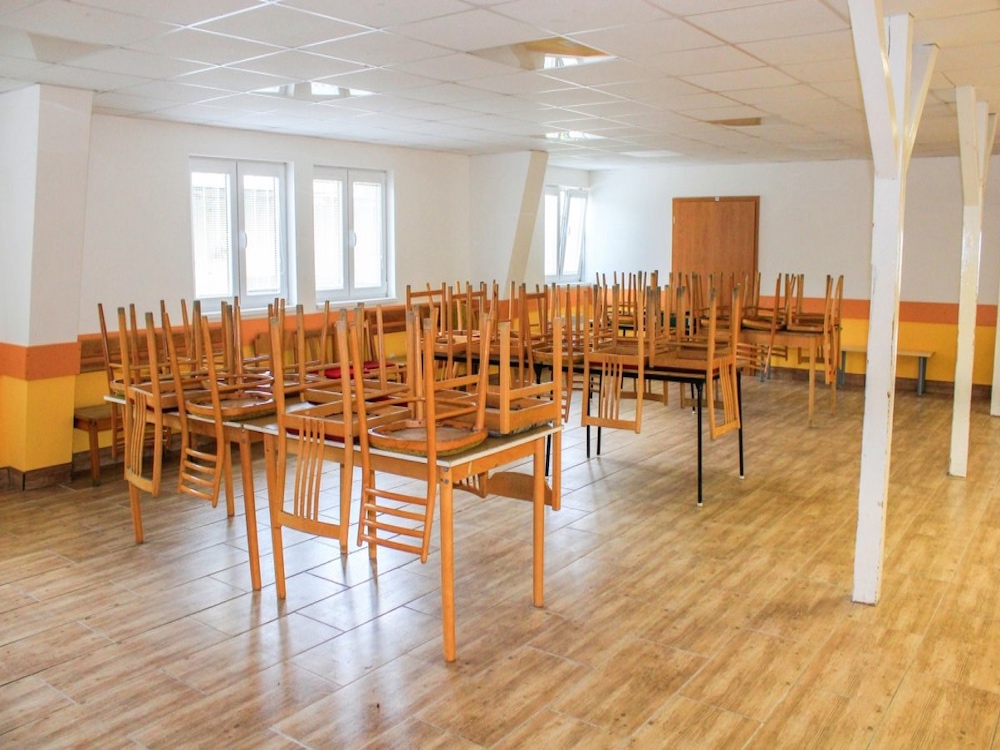 Community room and other facilities
A common room for up to 50 people or a fully equipped kitchen can be used by arrangement (outside the summer holidays). A grass or tartan playground is available for sports activities. Sports equipment can be rented at the reception. We offer the possibility of renting electric bikes.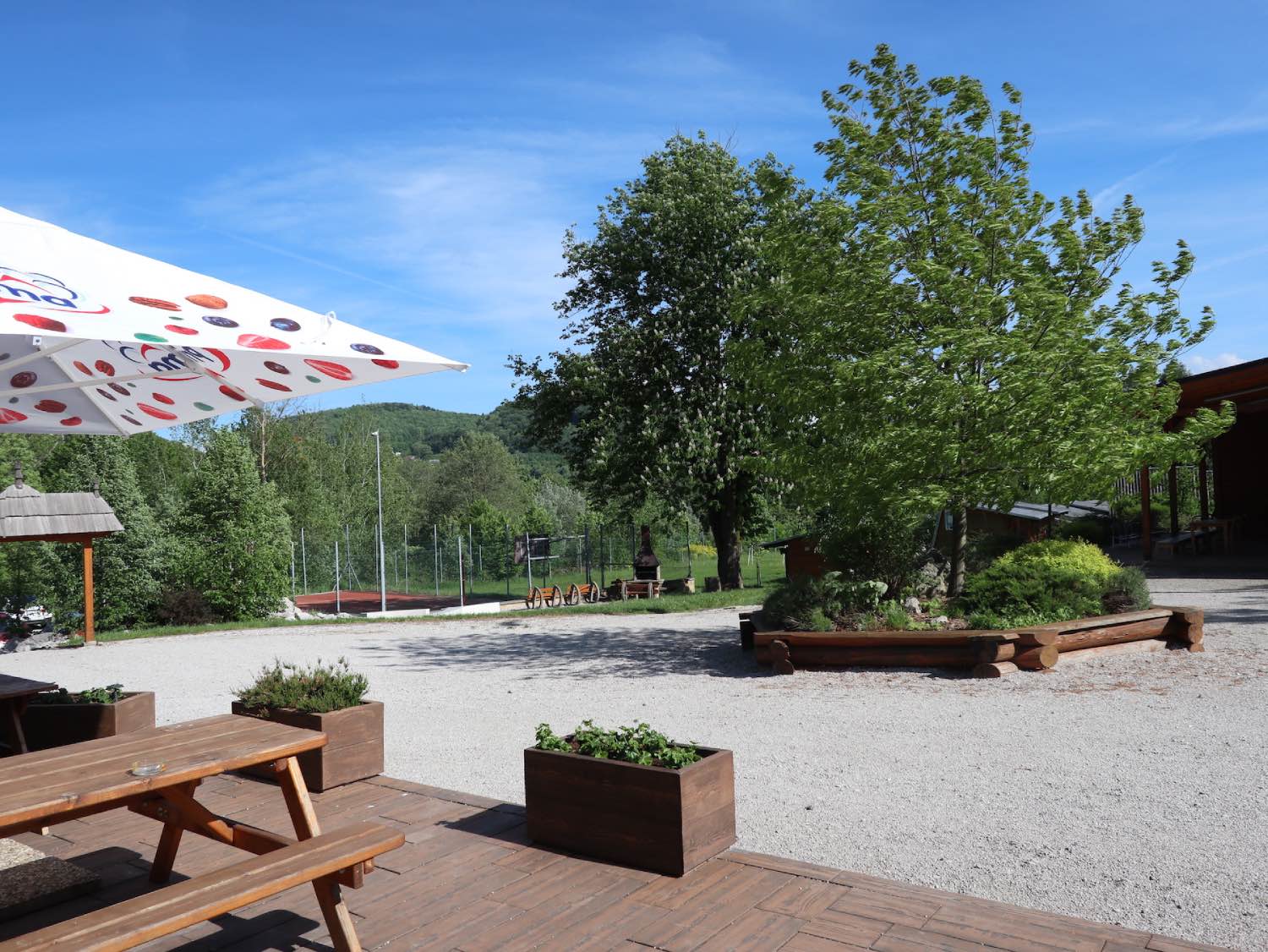 Refreshments and shop
From May to September a small shop with drinks and snacks is open on site. The shop in Štramberk can be reached by car in 3 minutes, the larger shops in Kopřivnice in 10 minutes.
Quadruple and double rooms are standard equipped with bunk beds, table and chairs, wardrobe, electric socket and lighting. Our cabins offer a capacity of 250 beds. The campsite is therefore suitable not only for hikers and families who want to explore the local beauty, but also for tours, corporate events, school trips and other adventures.
Renovated sanitary facilities are located in the immediate vicinity of the cabins.
Catering can be arranged in the main building's own kitchen, which, in addition to the new dining room, includes a large hall suitable as a classroom, a reception with refreshments and seating on the outdoor terrace.
Of course, the grounds include a playground, fire pit and adjacent areas.
Hot water is available in the area all day long.
| | |
| --- | --- |
| four-bed cottage | 1200 CZK/night |
| double bed cottag | 800 CZK/night |
| breakfast | 75 CZK |
| dinner | 130 CZK |
In July and August we do not provide accommodation in the cottages, summer camps for children are held here.
We cook if there are at least 20 guests staying in the cottages.
| | |
| --- | --- |
| Recreation fee to the city | 15 CZK/person (children under 18 are exempt) |
| rental of a hotplate | 100 CZK/day |
Payment for accommodation will be made on site. Pre-payment on invoice is also possible, according to individual agreement.
Reservation of accommodation
Reservations for accommodation dates are accepted:
by phone: 604 274 669
by e-mail: ukateriny@kempstramberk.cz
online: using the form
604 274 669
ukateriny@kempstramberk.cz

The construction of the Stellplatz and the reconstruction of the playground was co-financed from the project budget of the Moravian-Silesian Region, within the framework of the subsidy program Support of tourism in the Moravian-Silesian Region in 2019, subsidy title No. 3. 3. The reconstruction of the social facilities was co-financed from the project budget of the Moravian-Silesian Region, within the framework of the subsidy program Support of tourism in the Moravian-Silesian Region in 2020. Press release (.pdf)